ALWAYS BREEDING TO THE BREED STANDARD INCLUDING THE VERY BEST OF  TEMPREAMENTS
BREEDING FAMILY MEMBERS IS JUST AS IMPORTANT AS BREEDING CHAMPIONS 
We are so delighted with Lexi, she has settled in so well & adores Abby. We take her to a super place called Pawpounders where we can hire a field for an hour & she & Abby have a fantastic time + we are so lucky as we have a Nature Reserve opposite us for regular walks. She loves her comforts & has a special place on the settee!!
Beauty with Brains, Breckamore Brown Sugar left for America in 2013. She now has her Herding and Rally Titles.
Brains as well as Beauty!
Another Flock Master Daughter. Breckamore Burnt Sugar left for the USA in 2013. She now has her Herding And Rally Titles.
Hello Ann, 
You probably don't remember me as it's 4 1/2 years since we collected Ralph, but I wanted to let you know what an impression he is still making! All testament to your breeding.
I never cease to be amazed at how many people comment on him when we go walking. So many people notice him and ask about him. I had a very lengthy conversation today with someone who visits Crufts every year. No one has seen another smooth collie and neither have we!?
We wondered how many of you are still breeding smooth collies? Up in Scotland he made an impression which is where he originated I think?
I still don't understand why this breed is endangered but hope there are enough of you to keep this lovely breed alive.
Attached is a photo. We don't go in for dressing dogs at all but that beautiful white chest was crying out for a redundant bow tie, supplied by our son.
I hope you have a happy Christmas (despite present circumstances).Best wishes, Tina    22/12/2020
'We collected Ralfie, a tri male, when he was almost 11 weeks old from Breckamore Collies.
Ralfie is a strong and healthy pup with a wonderful temperament. He is intelligent and curious and already showing signs he will be quick to learn. We are delighted with our puppy, who is clearly bred from top class stock.'     Lorraine K.
 "Bridget has settled amazingly well. 
Has learned sit, come, down, stay and leave it (almost) as well as walking nicely on the lead!"
She also slept all the way through the night with no accidents last night! Goes to bed every night with no fuss and takes herself into her crate for every nap (if there isn't an available lap on the floor!).
Hope you manage to have a lovely Christmas Day, and thank you again for trusting us with such a wonderful dog."   Sandra 
Hello Ann.  We are back safe. She's eaten some tea and met all of the dogs. All is well.
She's beautiful.
Thank you
Mandy
Hello Ann.  We are back safe. She's eaten some tea and met all of the dogs. All is well.
She's beautiful.
Thank you
Mandy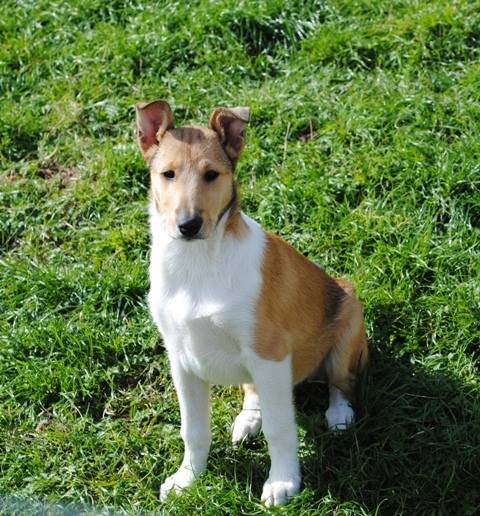 We have had Edie for nearly 6 weeks now and she has settled into our household bringing joy and laughter with her. She is a beautiful puppy.
Our vet commented on what a lovely temperament she has and also how healthy she is when we took her for her puppy check. She can be cheeky but that shows she is full of character.
Edie is very clever and has already mastered sit, down and waits for her food until told she can have it which must be difficult for a young puppy! She is also starting to get recall, but not all the time!
All the fabulous traits that Edie shows have come from the excellent breeding by Ann. She breeds such fabulous dogs and the support we receive is second to none.
Thank you for our lovely Edie    25/01/20